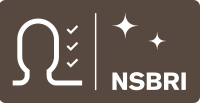 Individualized Real-Time Neurocognitive Assessment Toolkit for Space Flight Fatigue
This project addresses the NSBRI Human Factors and Performance Team goal to develop tools to assess crew performance in real time and evaluate countermeasures to mitigate the effects of fatigue, circadian misalignment and work-overload.
---
A subject's cerebral blood flow is measured while performing cognitive assessment tasks. Photo courtesy of NSBRI.