SMARTCAP offers non-dilutive grant funding to small U.S. companies and the opportunity to r collaborate with NSBRI and its research partners (including NASA).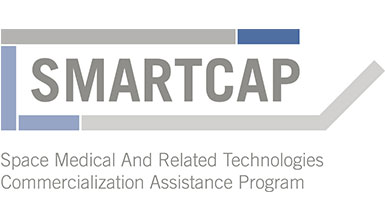 NSBRI designed SMARTCAP to capitalize on a company's on-going development efforts and existing commercialization strategy while enabling pursuit of expanded market opportunities via projects that address both space exploration demands and terrestrial market applications. We recognize that small companies must maintain focus on their primary goals thus NSBRI seeks projects that advance those goals while also benefiting the space program. NSBRI works with successful candidates to develop a work plan that is aligned with both the terrestrial and space applications of the product.
Below are the answers to a number of frequently asked questions. If you have additional questions after reading these, please contact Dr. Dorit Donoviel, NSBRI Industry Forum Lead, at smartcap@nsbri.org.
Q: What is SMARTCAP?
A: SMARTCAP is a competitive funding opportunity designed to encourage the application / development of novel solutions that already have applications and markets here on Earth to address the biomedical issues faced by humans during space exploration.
Q: What is the award amount? 
A: NSBRI has awarded amounts ranging from $100,000 to $250,000.
Q: What is a small company for the purposes of qualifying for this program?
A: U.S.-based companies with fewer than 500 employees qualify.
Q: Are specific research areas targeted by NSBRI?

A: There have been general calls for solutions addressing any area identified by NASA on the human research road map and there have been calls which were very specific for a particular area of concern (interest). For example:
BioShield 4 Mars, the SMARTCAP 2016 call, focused on identifying countermeasures that can protect healthy tissues from environmental insults such as radiation.
Vision 4 Mars in early 2015 sought solutions for the vision issues experienced by astronauts while in space.
Q: What happens when there is no active solicitation?
A:     NSBRI continues to seek out and evaluate novel solutions in the following high priority areas:
• Diagnostic and therapeutic devices for vision and cerebral health
• Non-invasive surgical approaches
• Behavioral health solutions
• Ionizing radiation countermeasures
• Ionizing radiation biodosimetry technologies
• Point of care diagnostics for multiple conditions using various bio-fluids
• Miniaturized imaging capabilities
• Smart medical algorithms
If your company has a technology / product that could prove useful in any of these areas, please contact Dr. Dorit Donoviel, NSBRI's Deputy Chief Scientist and Industry Forum Lead, at smartcap@nsbri.org.
Q: What are the requirements for matching funding?
A: Please click here for more specifics regarding matching funding.
Q: When must my company submit an application to be considered for a SMARTCAP grant?
A: Each call for applications includes a timeline that details the important dates. Typically, submissions must be received by 5:00 PM CST on a date that is four to six weeks after the initial call.
Q: When will I learn whether my company was selected?
A: Following the initial down-select based upon the application, only those companies advancing to the next stage will be notified by NSBRI.  Advancing companies are typically notified within five business days of the application deadline. If you do not hear from NSBRI, your submission did not advance.
Q: How long is the process and what are the critical steps?
A: The grant recipient for each SMARTCAP Grant Cycle will be announced within 120 days of the application deadline.  During the following twelve months, the grant recipient will design and execute the funded project.
There are three key steps for successful applicants:
Step 1: Submit an application by the deadline.
Step 2: Selected applicants will prepare and submit a slide deck for evaluation by NSBRI and the Industry Forum Steering Council. Typically, four – six companies will be chosen for the next step.
Step 3: Companies selected to advance will be invited to present the company overview and demonstrate the product to the Industry Forum Steering Council at NSBRI's headquarters in Houston.
Q: What information should be included in the application?
A: The initial application requires a cover page, a succinct overview of the company and a statement explaining how the proposed solution will address the targeted biomedical issue. Read more about the application process.
Q: What types of products/technologies are you looking for?
A: NSBRI, through its integrated research program, seeks products and technologies to reduce or eliminate many of the changes to the human body that impact an astronaut's ability to perform well in space and that might impact their health after returning to Earth. The NSBRI program also looks at ways to enhance countermeasures already in place on long missions.  Information about the impact of space travel on humans may be found here: The Body in Space
Q: What is the purpose of the Product Readiness Level ranking?
A: The SMARTCAP grant is intended to support the further development of products/technologies that have, at minimum, demonstrated proof-of-concept for devices or in vitro diagnostics, and, for any in vivo products, have commenced regulatory studies. For more information on PRL, see SMARTCAP.
Q: What is the duration of the grant?
A: NSBRI expects the projects to be completed within one year of the funding initiation date, but may adapt the timeline based upon the requirements of the project.
Q: We don't have much knowledge of the needs in space.  How can we design an appropriate project?
A: Companies selected to present in Houston will receive assistance from NSBRI to ensure that their project plan addresses space needs in addition to the requirements of the terrestrial market.
Q: Are there advantages of working with NSBRI beyond the value of the non-dilutive funding?
A: Awardees have found there to be significant value in the experience, for example:
Entrinsic Health Solutions, LLC incorporated a new study protocol using PICA to measure nausea that enabled it to compare enterade® to odansetron which is the standard of care for radiation-induced nausea.
ACell, Inc. developed a new wound-healing model that it has since presented at several scientific meetings and expanded its product line and market opportunities.
Cerebrotech, Inc. is now working with world-renowned investigators achieving proof of principle data and results in new clinical models at Baylor College of Medicine and has attracted additional investor funding through introductions made by NSBRI.
Q: What rights does NSBRI receive in return for the grant?
A: NSBRI requests that its support be acknowledged in any publications or patent applications that result from the funded work.  Government agencies such as NASA do receive a royalty free license to utilize any resultant products.
Q: I see that applicants selected to advance will be required to travel to Houston to provide a technology demonstration and to present the company and the proposed project.  Does the selected company have to cover its own travel expenses? 
A: NSBRI will cover the travel expenses for two representatives from the company.
Q: Where can I learn more about the risks associated with human space flight?
A:  For a more complete description of risks associated with human space flight see The Body in Space and http://humanresearchroadmap.nasa.gov/